Field Management Software
ESTIMATE - MANAGE & PLAN - INVOICE
Built for all businesses in the Trade Service industry. Manage your Mobile Workforce and Contractors with Eworks Manager.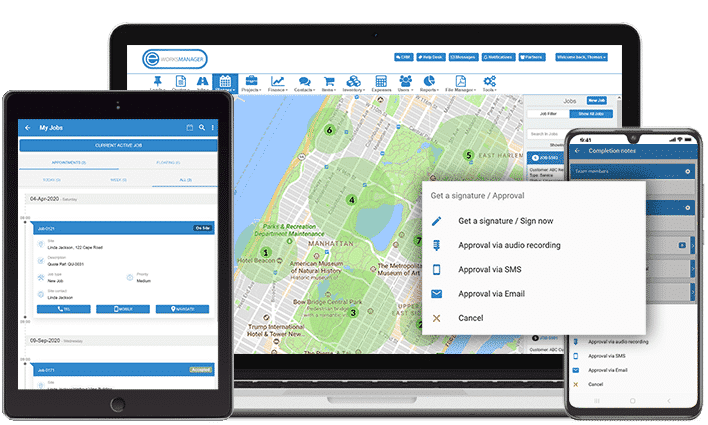 Eworks Manager provides a simple solution to complex field service management software. Comprised of two key elements, our web-based administrative system and mobile application allows you to manage every aspect of your workflow from estimate to invoice, monitor performance, reduce deficiencies, and maximize profitability within one system.
CRM and Sales Management
---
Import lead data, emails, calls, track customer interactions and generate reports from our lead management dashboard.
---
Manage leads and customer inquiries with ease. Import prospective customer data, manage pending requests and effectively market to your customers. An ideal solution for outbound telesales staff or call center teams.

Each interaction is tracked and provides reportable information to evaluate sales performance. Leads can easily be converted to an estimate or sales appointment. Automate marketing email communications to your customer base without the need for a separate system and eliminate redundant data processing.
---
Convert more Estimates
---
Cost estimates are easy to create, duplicate, email, print and export. Even complete them on the go!
---
The Eworks Manager cost estimating software gives you the competitive edge to win more business. Easily generate new estimates, group estimates, duplicate and store for future use, or submit directly to your customer via email or printed. Customize your estimates with company brand and structure for continuity. Access and export your estimates whenever you need them.

With one click, convert your estimate to work order or directly to invoice according to your business workflow. View the status of your estimates and generate comprehensive reports to accurately forecast sales and revenue projections. You have complete control of your operational processes with added accessibility and insights to win more business.
---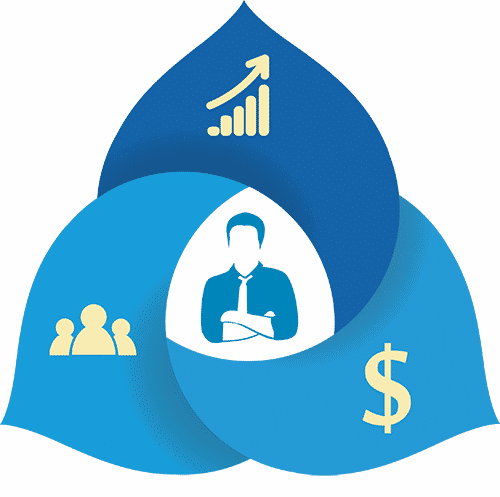 Job Planning and Management
---
Eworks Manager is the smart way to plan and manage your maintenance, service calls and installations.
---
Increasing visibility between the field and office is paramount. The cost of inefficient field management, without software, is lost revenue and decreased customer satisfaction. If your field technicians are running behind schedule or fail to submit paperwork, additional time is spent tracking down documentation or communicating with employees and customers. With Eworks Manager field service management software you will be able to track and access detailed information for each job. With the ability to proactively adjust your labor balance and access job status, while the tech is still on-site, the administrative burden is significantly reduced and customer satisfaction is met. Your mobile field workers will be able to complete work orders electronically with digital job sheets and immediately access any documents needed to complete the work directly from their mobile device.
---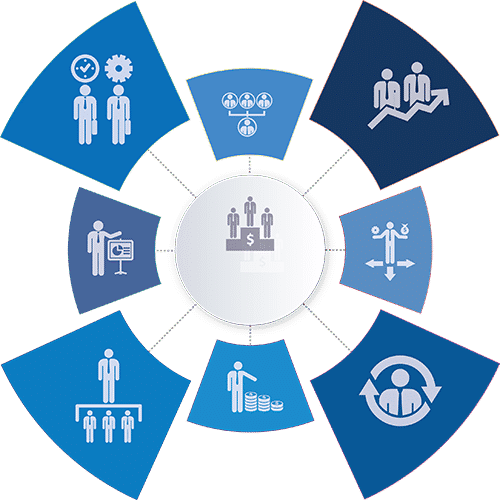 Project Planning
---
We've made field service project planning as easy as grouping jobs together!
---
Eroding profit margins are a thing of the past as Eworks Manager allows you to set cost limits on each project and track from cost to completion. Plan your projects with precision and flexibility to adjust and reallocate resources for optimal revenue. Effectively manage associated jobs and estimates for resource planning against project requisition, with real-time information and reporting tools.
---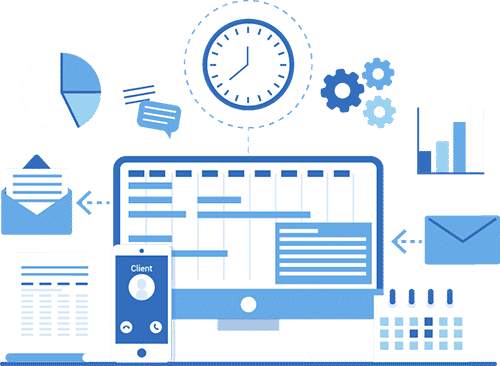 Finance and Invoice Integration
---
Eworks Manager's finance solution seamlessly integrates everyday job activities with the financial activities of a company.
---
Invoicing – Our full-featured invoicing module allows you to manage your customers, suppliers and your banking within one system. No additional finance system is required to run your business end-to-end. Eworks also integrates with Sage, Quickbooks and Xero.

Expenses – Create billable or non-billable expenses to track employee or subcontractor incurred costs. Easily assign expenses to a project or an invoice in admin system or from the mobile app.
---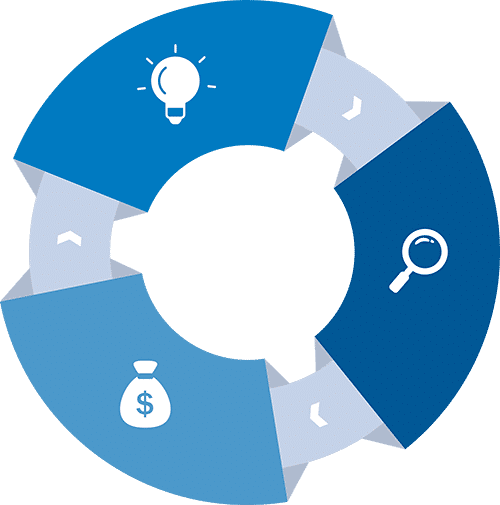 Smart Reporting
---
The key to success - understanding results and making changes.
---
With our comprehensive reporting suite you can manage your data with the ability to make informed decisions. Our comprehensive report options include: job summary, invoice summary, time on jobs summary, customer profitability reports, user time sheets, customer complaints reports, user holidays report, SMS reports, email reports.

You are in control with the Eworks Manager Dashboard overview of real-time work status and information. An at-a-glance view of consolidated daily operations with pending tasks, projects, billables, and priority items. Whether it's managing customers or managing subcontractors our smart reporting suite allows you to segment and filter data to find the information you need to make intelligent business decisions..
---
The Complete Business Management System
A few extra features you may like