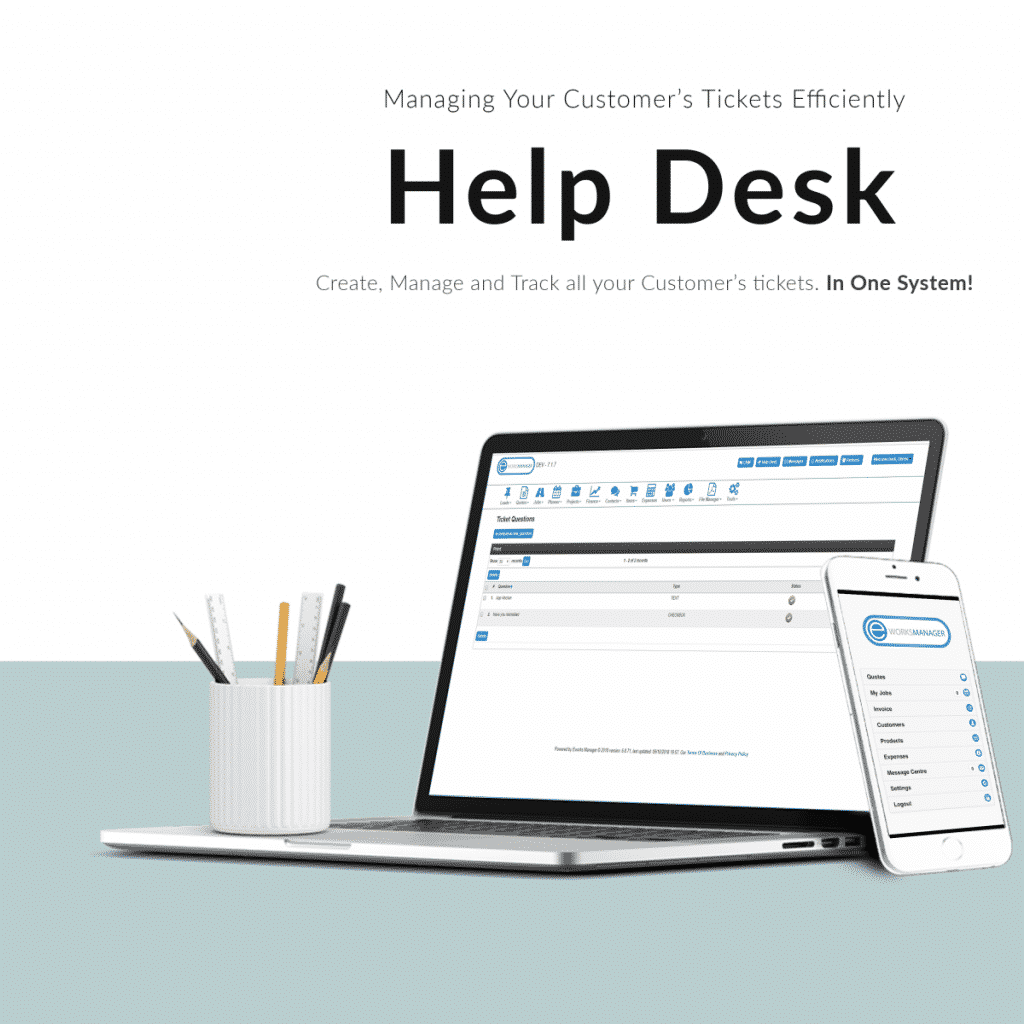 Managing Your Customer's Tickets Efficiently.
Manage Your Customer's Tickets Effectively
With Eworks Manager's Help Desk Software, you can easily and effectively manage and track all you customer queries in one system! This feature ensures that you are always in the loop. It also helps you keep your customers happy by responding quicker to their queries.
Your customers can easily create tickets on the system via the customer login portal. This encourages customers to connect with you in a way that is different to emailing and phoning. Furthermore, with the login portal, each ticket and query is monitored and tracked closely – never to be lost or forgotten.
For a customer to create a ticket all she/he has to do is select the category of the ticket/query, select what the query relates to and provide more information regarding the issue. Customers can also add additional attachments if needed. With a few clicks of a button, your customers can log queries into the system easily and effectively.
Creating Your Own Personalized Help Desk
The Help Desk Consists of Three Sections;
Questions
Create your own personalized questions for your customers to answer. By creating a predefined list of questions, your customers can give you more information regarding the query in a shorter amount of time.
With the Help Desk Feature, your in-office staff also won't have to travel out to the customer's site to inspect an issue as all relevant details are automatically synced to the system with the ticket.
Within the system you can also set up specific questions relating to categories. This means that you and your in-office can choose which questions fall into which categories. This organizes queries better and allows you to navigate your way through the questions quickly.
Solutions
With the Help Desk Feature, you can respond immediately to any queries your customers may have. Like the question aspect of our help desk software, solutions also fall under categories. When it comes to providing solutions to your customers, you can hence simply select the category  under which the solution falls, find the solution and then send the solution back to the customer.
Once you respond with the solution, it is then automatically made visible to the customer in the ticket system. The customer can then access the solution via the login portal. You can also directly email the solution to the customer via the system.
Categories
The categorization of queries and solutions allows you to instantly discover what the customer's problem relates to. With Eworks Manager, you can also create your own categories and designate particular categories to specific members of staff. With our help desk feature, you furthermore also have the ability to separate, link and merge customer queries to each other. Overall, our system ensures that the organization of your customer tickets is stream-lined
Our Software Allows Each Ticket To Be Converted to a;
Keeping track of your customers and their queries is an imperative part of any corporation. By doing so, you ensure that your customers are happy and that your corporation runs smoothly.
If you would like more information on our Help Desk feature please get in touch and test your 14-day free trial today!
Email us: info@eworksmanager.com
The Eworks Manager help desk software will help you achieve maximum profit from your company's products and services and will take the stress away from your daily working life as everything is within one system. Eworks Manager offers many company benefits and above is only a handful so if you're ready to ditch the paperwork and start your Eworks journey, sign up for your 14-day FREE trial and try it out for yourself!